Locations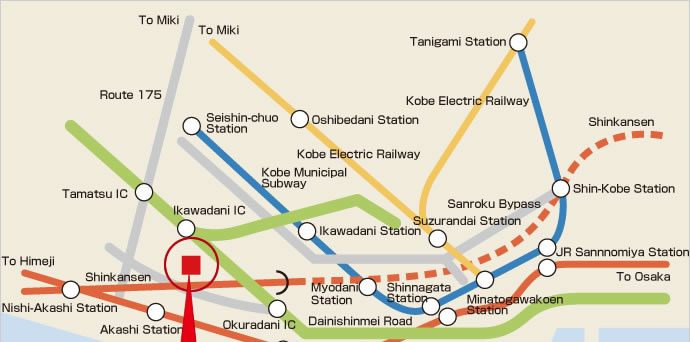 Locations
Head Office and Unit Plant
Head Office and Unit Plant
745 Ikawadanicho Junna (in the Kobe Ironwork Industrial Park), Nishi-ku, Kobe 651-2124
Phone: +81-78-974-0037
Fax: +81-78-974-7223
Sheet Metal Plant
730-7 Ikawadanicho Junna (in the Kobe Ironwork Industrial Park), Nishi-ku, Kobe 651-2124
Phone: +81-78-974-7500
Fax: +81-78-974-9990
Distribution Center
762 Ikawadanicho Junna, Nishi-ku, Kobe 651-2124
Phone: +81-78-976-2771
Fax: +81-78-976-2807
Directions
By bus
Take a southbound bus from the No. 6 boarding area at Akashi Station.
(To the Ikawadanishogakko-mae, Kitabefu, Ikawadanieki-mae, Taisanji, and Myodanieki stops)
Take the No. 14 Shinki Bus (about 10 min.) and get off at the Higashigawara stop. Hanshinkiki is about 8 minutes on foot from the stop.
By taxi
Hanshinkiki is about 20 minutes by taxi from JR Nishi-Akashi Station.
Hanshinkiki is about 10 minutes by taxi from Akashi Station.