Freestanding indoor panels
We offer services ranging from enclosure design to installation design, assembly, and wiring for a variety of applications, including indoor and outdoor panels in both freestanding and wall-mounted configurations.
Freestanding outdoor panels
Services consist of sheet metal manufacture, painting, assembly, and wiring for freestanding outdoor panels, including complex cubicle designs. We can also perform water exposure testing to customers' specifications.

| | |
| --- | --- |
| | We perform system, circuit, structural, and other design work in accordance with the customer's specifications using AutoCAD. |

| | |
| --- | --- |
| | We procure all parts, from electronic components to the sheet metal and resin processed parts that will serve as structural parts, from major manufacturers and hundreds of smaller companies, ensuring our ability to procure the best possible materials for each customer's needs. |
| | |
| --- | --- |
| | Experienced technicians organize panel wiring in an easy-to-understand manner while remaining faithful to industry best practices and accommodating the demands of small-lot, multi-model production. |

| | |
| --- | --- |
| | In addition to inspecting each panel's exterior appearance, structure, and wiring, we can perform dielectric strength and energized testing in accordance with customers' needs. |
| | |
| --- | --- |
| | We can accommodate all shipping and packaging formats, including transport and delivery to customer facilities (plants and other sites) as well as shipment from our facility. |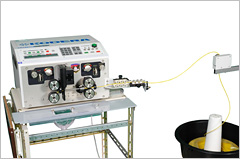 Automated wire cutter
This device cuts and strips wires automatically based on wire and stripping length settings. It dramatically reduces the number of mistakes typically made when this simple and repetitive task is performed by hand and lowers work times.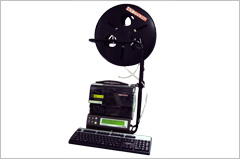 Mark tube printer
This mark tube printer uses hot stamp printing to mark ID numbers on mark tubes for wiring, helping prevent wiring mistakes.