Storage box (black)
Structural/exterior part for use with construction machinery
We developed a locking switch and designed the sheet metal using press analysis.
CEM support
Structural part for use with construction machinery
We performed the sheet metal and welding work for the medium-thickness sheet structure and designed the mass-production jigs.
Cover
Exterior part for use with construction machinery
We can also manufacture parts with complex shapes.
Storage box
We are involved with press-formed parts from the development stage to implement designs that lower costs. We can also combine yellow and black colors.
Submersible enclosures
We also manufacture an extensive range of control panels. We can produce sheet metal parts in any shape.
Cover (with liners)
We can also perform assembly work, for example to apply sound-absorbing material and soundproofing sponge material.

| | |
| --- | --- |
| | We have three Pro-Engineer 3D CAD systems and one Pro-Mechanica strength analysis software system, allowing us to offer services ranging from design based on customer specifications to development of new products. Our integrated production system, which uses 3D CAD modeling data, extends from design to manufacturing. |

| | |
| --- | --- |
| | Our AP100 network-capable automated programming system, which uses 3D CAD data, allows us to accommodate customer needs quickly while reducing the number of programming man-hours needed to complete a project. |
| | |
| --- | --- |
| | Our bending machine, which incorporates a network-capable, high-precision hybrid drive system, features micrometer-order positioning accuracy, guaranteeing absolute quality. |

| | |
| --- | --- |
| | Our automated welding robot can accommodate monthly production volumes of more than 2,000 products or parts. Our production system, which was designed in-house, can accommodate new product models with a high level of flexibility. The material-handling robot is a 160 kg mobile system, while the welding robot provides non-spatter, semi-automated welding capabilities. |
| | |
| --- | --- |
| | Thanks to a new 3D measuring instrument, we are able to measure dimensions at locations and 3D curves that cannot be measured with conventional equipment, allowing us to promise customers robust levels of quality. |

| | |
| --- | --- |
| | Our painting robot uses a labor-saving wet-on-wet method to apply final coats of yellow or black paint as well as primer undercoats. We've also installed equipment for zinc-phosphate for powder coating. |
| | |
| --- | --- |
| | We build efficient mass-production assembly lines using either conveyor production or cell production methods based on the type of work being performed and the number of parts. |

| | |
| --- | --- |
| | We were among the first companies in our industry to offer just-in-time production in response to customer demand to have the volume and timing of production fine-tuned to their needs. We also operate a Distribution Center (with an area of 1,097 m2). Our ability to minimize inter-process inventory and eliminate opportunity loss helps us lower costs. |




Asphalt finisher cab

This asphalt finisher cab consists of a total of 250 parts. We handled the entire manufacturing process, from the structural sheet metal design and electrical design to enclosure assembly, wiring, and inspection.




Breaker panel for construction machinery

This breaker panel consists of a total of 20 parts. We can produce 2,000 of these electrical units for construction machinery per month.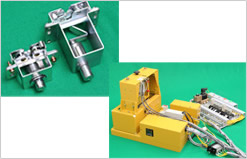 Development and endurance testing of functional parts
Automated testing systems built in-house are able to accommodate an extensive range of tests.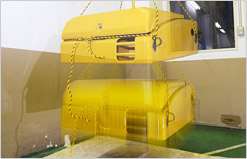 Drop endurance testing of products
Pro-Mechanica analysis results are validated using actual products, aiding in the commercialization of developed products and allowing us to guarantee a reliable level of quality.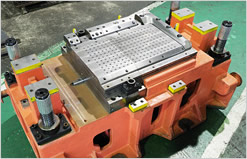 Press mold trials
We can work with mold manufacturers to accommodate difficult mold shapes (the photo depicts a mold for an anti-slip part).