DC ground fault warning devices
Taking advantage of our expertise in assembling heavy electrical equipment, we manufacture unit products for a broad range of fields, from analog electrical devices to digital electrical devices.
Startup panel units
We can manufacture panels for controlling air compressor startup with motors ranging from small (5.5 kW) to medium (75 kW) capacity.
Other devices
We manufacture waterproof control panels for installation on manufacturing lines in facilities such as food and chemical plants.

| | |
| --- | --- |
| | We can accommodate the full range of customer needs, including in system design, software, circuit, resin molding, structure, sheet metal, and design. We use 3D CAD for structural design, electric circuit CAD for electric circuits, and source code analysis tools and other techniques for software design, allowing us to effectively lower costs and turnaround times. |

| | |
| --- | --- |
| | We procure all parts, from electronic components to the sheet metal and resin processed parts that will serve as structural parts, from major manufacturers and hundreds of smaller companies, ensuring our ability to procure the best possible materials for each customer's needs. |
In preparation for unit and panel assembly for products with extensive internal wiring, we build wiring harnesses using in-house harness boards.

In addition to facilitating uniform finish and quality, this approach shortens work times.

| | |
| --- | --- |
| | With the ongoing diversification of product models lending momentum to small-volume, multi-model production techniques, we have introduced cell production methods to better meet the needs of the times. We can also meet customers' small-volume, multi-model manufacturing needs in a flexible manner. |
Because we develop and manufacture our own automated testing systems in-house for a variety of products, we are able to provide products at a high level of quality and cost performance.

We've also purchased automated testing systems from other manufacturers to ensure consistent quality levels, shorten testing times, and improve safety.

| | |
| --- | --- |
| | We can accommodate all shipping and packaging formats, including transport and delivery to customer facilities (plants and other sites) as well as shipment from our facility. |




Touch tags

Working with major corporations, we have participated in the effort to commercialize a next-generation authentication system since the development stage. Hanshinkiki's services range from the manufacture of multiple prototypes to verification and operational testing.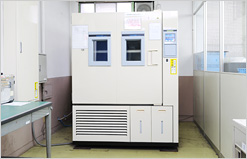 Constant-temperature oven
Our environmental testing system allows us to program and recreate an extensive range of temperature, humidity, and time conditions.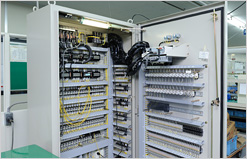 Startup panel automated testing system
We have developed and manufactured an in-house system for checking the wiring in startup panels by energizing them at a low level of voltage. Use of a one-touch fixture to check energized areas of the target panel reduces the need for setup changes and shortens testing times.