At a time when Japanese industry is faced with a declining population, dwindling birthrate, aging population, rapidly appreciating yen, and expanding markets in China, India, and other Asian countries, manufacturing companies' activities must be informed by an awareness not only of the Japanese, but also of the global, economy. Even in the midst of major change in the economic environment, new manufacturing opportunities exist. As a manufacturing company that is dedicated to taking advantage of these opportunities, we pledge to:
1. Help realize an optimal manufacturing industry in society through manufacturing.
2. Base our operations on a love of manufacturing, which we will pursue in an enjoyable manner.
We perform manufacturing operations under contract to large companies, particularly Caterpillar Japan Ltd. and Mitsubishi Electric Corporation. The technology and skills cultivated through those operations make us a valuable partner for many companies who outsource the production of a broad range of products to us.
By further refining our technologies and skills, we are striving to become a company capable of playing a useful role for individuals, companies, and society as a whole into the 21st century.


1.Offer proposals that earn customer satisfaction in the area of product manufacture.
2.Earn the trust of customers in the areas of quality, cost, turnaround, and the environment.
3.Achieve innovation in our corporate culture (through PPORF activities).
This philosophy serves as the yardstick by which we judge our manufacturing operations as we strive to provide products that earn customer trust and satisfaction, contribute to customers' quality assurance and environmental preservation activities, comply with all applicable laws and regulations, and meet all customer requirements.
In short, Trust = Honesty + Sincerity + Good Faith.

Quality Policy
Our quality policy consists of:
Providing high-quality products to customers.
Fulfilling our corporate responsibility by complying with laws and regulations.
Striving to improve the effectiveness of our quality management system on an ongoing basis.
Establishing quality targets for each fiscal year and evaluating the degree to which we are able to achieve them.
ISO9001
Based on our commitment to the principle of "Quality First," we strive both to provide products that earn customer trust and satisfaction and to contribute to our customers' quality assurance activities. To that end, we endeavor to conduct our manufacturing operations in a manner that complies with all applicable laws and regulations while satisfying customers' requirements. In 2002, we earned ISO 9001 certification.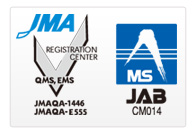 Environmental Policy
Basic Philosophy
Recognizing the importance of the Earth's environment, all employees of Hanshinkiki, Inc., are committed to pursuing the company's activities in a manner that gives due consideration to the imperative of protecting the environment.
Guidelines for Action
Hanshinkiki, Inc., ("the Company") shall give due consideration to the need to protect the environment in operations involving the receipt of orders for and the design, manufacture, and delivery of power distribution panels, control panels, compressor power panels, power and industrial electrical machinery, and parts and control devices for construction machinery under contract to customers, as well as operations involving the receipt of orders for and the manufacture and delivery of machined parts.
The Company shall strive to reduce waste products, promote recycling, reduce resource use, reduce energy use, observe the principles of green purchasing, adopt environmentally responsible manufacturing methods, and prevent pollution.
The Company shall comply with applicable laws, ordinances, agreements, and other regulations that address environmental issues.
The Company shall establish and strive to improve on an ongoing basis a management system to pursue environmental preservation activities.
The Company shall establish environmental preservation objectives and review them on an annual basis by checking the status of their implementation.
The Company shall inform all employees of this Environmental Policy and associated environmental preservation activities and strive to increase their awareness of related issues.
This Environmental Policy shall be made available to the general public.
ISO14001
In order to reduce the environmental impact of our business activities, products, and services and to fulfill the responsibilities of businesses as outlined in Article 8 of the Basic Environmental Act in a systematic and ongoing manner, we have established and will strive to maintain an environmental management system as part of our general management system.
In 2005, we earned ISO 14001 certification.